透明古柯叶
Cocoe Transparente
2011
艺术家Davide Salvadore擅长以生动的姿态视觉语言对传统的非洲符号进行重新诠释,为其注入新的活力。作品《透明古柯叶》运用大地色系,并用鲜艳的色彩加以点缀,会让人联想到沙漠上清澈的蓝色夜空或非洲纺织品的明亮色调。作品某些部位具有强烈的雕刻感,使其散发韵律般的质感,而偶尔出现的充满美感的有机形态令人叹为观止。
Using a lively, gestural visual language, Davide Salvadore reinterprets and reinvigorates traditional African symbols. He employs mostly earth tones in his work 'Cocoe Transparente', punctuated by splashes of brilliant color bringing to mind the crisp blue sky of the desert or the bright hues of African textiles. Areas of intense carving create a rhythmic quality in the work; while the sensuous, organic forms at times appear to be breathing.
艺术家简介 About The Artist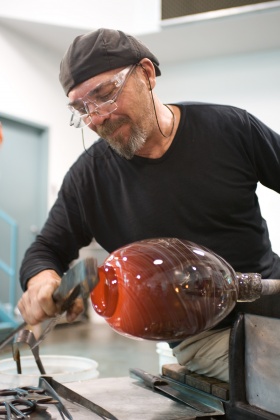 Davide Salvadore
Italy/意大利
*1964
https://www.davidesalvadore.com
对于Davide Salvadore来说,制作玻璃艺术品已经成为他的一种生活方式,他做的任何事情都体现出他对玻璃艺术和玻璃艺术传承的崇敬。经过多年的精益求精和对所用材料界限的不断突破,他对玻璃艺术及其独特功能有了新的看法。他的每件新作品都令观众赞叹不已,促使我们对玻璃这种雕塑载体的无限可能性进行重新审视。
For Davide Salvadore, working with glass is a way of life– a reverence for glass and its traditions are inherent in everything he does. His tireless quest for perfection and constant drive to push the boundaries of his material have led him, through the years, to new ways of thinking about glass and its capabilities. With each new body of work, Davide dazzles his audience, forcing us to reconsider our ideas about what is possible using glass as a sculptural medium.