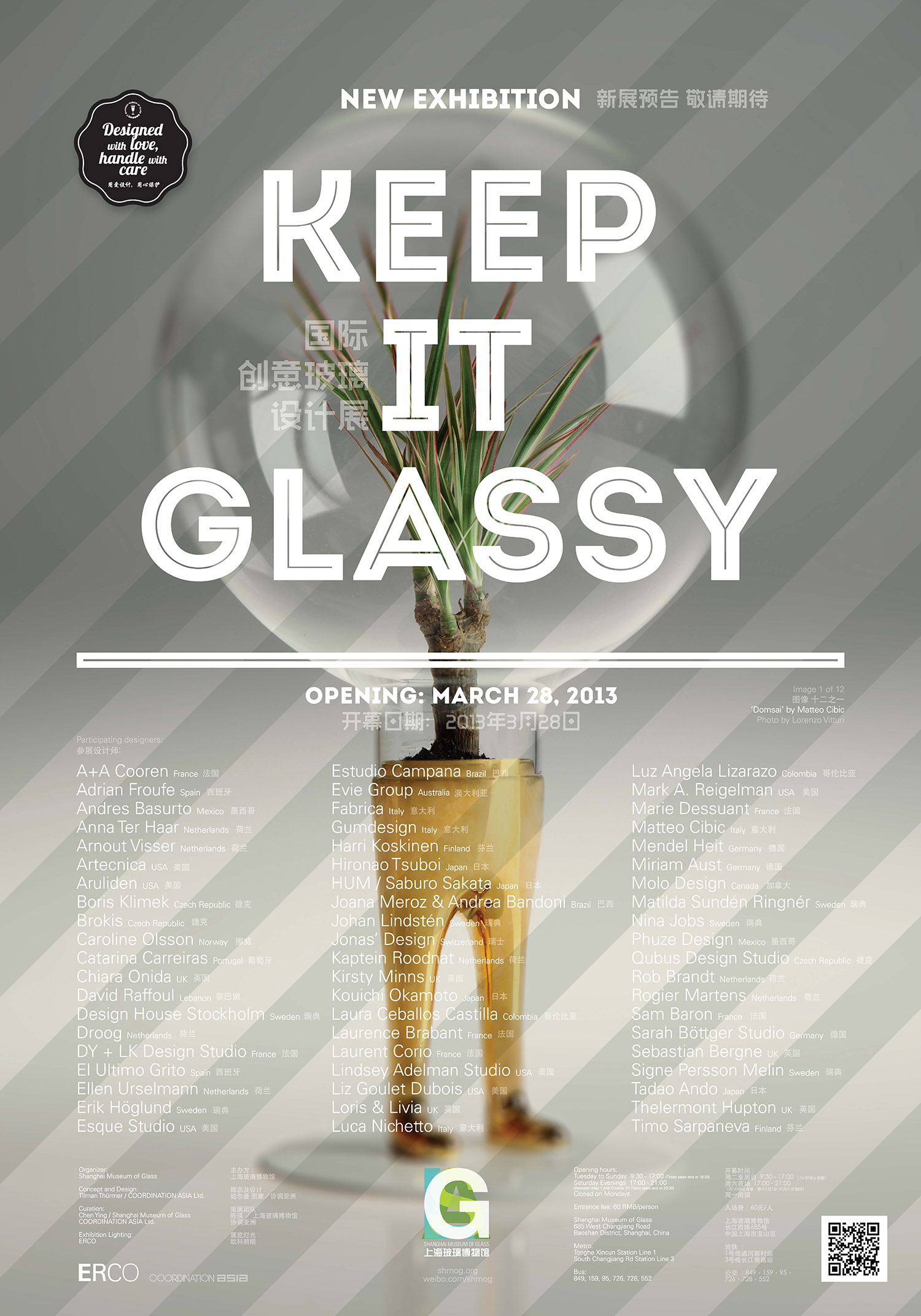 KIG 国际创意玻璃设计展
逾200件来自世界各地的创意设计作品奏响玻璃的"欢乐颂"。
2013年3月28日,上海玻璃博物馆将会迎来横跨整年的重磅特展——"Keep it Glassy",展示出玻璃设计创意和玩味的一面。这场展览涵盖了世界各地50多位设计师的作品,包括著名设计师Droog(荷兰)、Fabrica(意大利)、Campana Brothers(巴西)和Tadao Ando(日本)等。这200多件作品的共通之处在于:用爱设计、用心保护。
玻璃已穿过漫长时光,直至今日,设计师们依然在不断挖掘这种材质的迷人特质,呈现其变化无穷的形和色。众所周知,玻璃制作是一门繁复且极为严谨的工艺,但同时也是充满趣味的尝试,总能带来意想不到的结果,而新展览"Keep it Glassy"恰恰会验证这一点。
超过200件展品经由世界各地精心汇聚上海玻璃博物馆的全新临展空间。"Keep it Glassy"展览精选出的众多国际级设计师佳作,将会让跨越语言、风格和文化界限的玻璃在这里妙趣横生。该展览汇集创意理念于一处,共享同一种语言——对玻璃的热爱,和以玻璃进行创意设计的兴奋刺激。
Keep it Glassy展览由协调亚洲共同策划,这家公司为该展览项目创作出非凡的理念和设计。如梦如幻的的镜面和水池设计呈现出令人惊叹的视觉体验,引领观众一同品味这些不仅可展现出材质本身的魅力,还能让你把微笑挂在脸上的展品。
Keep it Glassy展将横跨2013年,并伴有精彩纷呈的系列活动。更多关于展览、设计师以及作品的资讯将陆续发布,敬请关注!
Keep it Glassy
More than 200 exhibits from all over the world show the fun of working with glass
On the 28th of March 2013 the Shanghai Museum of Glass presents a sparkling new exhibition that shows the playful and fun character of glass design. 'Keep it Glassy' shows the work of more than 50 designers from all over the world, including renowned names such as Droog (The Netherlands), Fabrica (Italy), the Campana Brothers (Brazil) and Tadao Ando (Japan). Over 200 exhibited objects have one thing in common: they are designed with love and should be handled with care.
Throughout time, glass has come a long way. Up until today designers are embracing the materials' fascinating ability to take on endless shapes and colors. Besides the fact that working with glass is a very serious matter of craftsmanship, it is also a fun way of experimenting that can have surprising results. The new exhibition 'Keep it Glassy 'shows exactly this.
More than 200 exhibited works are carefully brought in from all over the world to come together in the new temporary exhibition space of the Shanghai Museum of Glass. For 'Keep it Glassy' an international selection of designers was made, as the fun of working with glass goes beyond borders of language, style or culture. The exhibition brings together the works of creative minds that share a common interest – a passion for glass and an excitement in working with the material.
Keep it Glassy is co-curated by COORDINATION ASIA, who also created the extra-ordinary exhibition concept and design for the project. A maze of mirrors and pools offers surprising perspectives and leads the visitor through the selection of exhibits that put a smile upon your face and show the magic of the material.
Keep it Glassy is on show throughout 2013, and will be accompanied by an exciting program of events. More information about the exhibition, the designers, and the exhibits will be available soon. Stay tuned!
主办方:上海玻璃博物馆
联合策展:协调亚洲
展览时间: 2015年4月19日 – 2016年3月31日
展览地点:上海玻璃博物馆,23号楼
Organizer: Shanghai Museum of Glass
Co-Curator: Coordination Asia
Dates: Apr 19, 2015 – March 31, 2016
Exhibition Venue: Building 23, Shanghai Museum of Glass