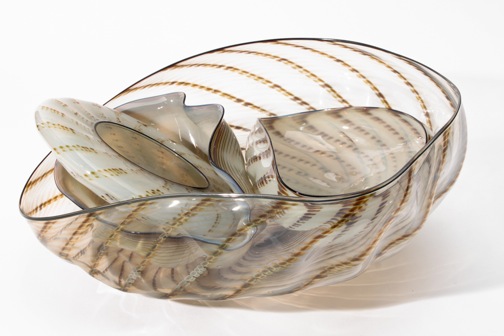 海贝
Seaforms
1981
"Seaforms"应该说是意外之作,就跟Dale的很多作品一样,伴随了很大的偶然性。当时他正在制作'篮子'系列,他们用了一些带棱纹的模子做试验。为了作出更薄、更稳固的作品,Dale使用带棱纹的模具进行吹制以增加玻璃的强度,就像是一个带波纹的硬纸板。结果'篮子'看上去变得像是海洋贝壳,所以他们决定把这个系列的名字换成更贴切的'Seaforms'。于是,利用人类的气息、离心力、重力和火,1981年,Dale的团队在位于华盛顿州西雅图的热玻璃工作室创作出了青瓷色带金色斑纹的贝壳系列。
"The 'Seaforms' seemed to come about by accident, as much of my work does- by chance. We were experimenting with some ribbed molds when I was doing the Basket series.  In exploring ways to make the pieces thinner and stronger, I tried blowing the pieces into ribbed molds to give them additional strength, like corrugated cardboard. The Baskets started looking like sea forms, so I changed the name of the series to 'Seaforms,' which suited me just fine. Using human breath, centrifugal force,gravity and fire, 'Celadon Seaform Set with Gold Stripes' was created in 1981with my team at my hotshop in Seattle, Washington".
艺术家简介 About The Artist
Dale Chihuly
USA/美国
*1941
https://www.chihuly.com
Dale Chihuly毕业于华盛顿大学室内设计和建筑学专业,是享誉世界的美国著名玻璃雕塑大师和企业家。后于罗德岛设计学院继续深造,并且在该校建立玻璃专业并任教数十载。1968年,他前往威尼斯玻璃工厂进行工作并逐渐确立热吹玻璃团队合作模式并沿用至今。1971年,Dale Chihuly参与创建了Pichuck玻璃学校,借由此国际化玻璃艺术中心,Chihuly引领延续了极具时代意义的玻璃工作室运动,将玻璃材料带入艺术语境。
如今,他的作品被全世界超过200家博物馆所收藏,他的作品从二十世纪末至今,一直在世界吹制玻璃业界被视为独树一帜。他的贡献超越了国界,无论是在玻璃工作室运动,还是在整个玻璃加工领域,他的成就均影响了同时代的玻璃艺术。
Dale Chihuly was introduced to glass while studying interior design at the University of Washington. After graduating in 1965, Chihuly enrolled in the first glass program in the country, at the University of Wisconsin. He continued his studies at the Rhode Island School of Design (RISD), where he later established the glass program and taught for more than a decade.
In 1968, after receiving a Fulbright Fellowship, he went to work at the Venini glass factory in Venice. There he observed the team approach to blowing glass, which is critical to the way he works today. In 1971, Chihuly cofounded Pilchuck Glass School in Washington State. With this international glass center, Chihuly has led the avant-garde in the development of glass as a fine art. His work is included in more than 200 museum collections worldwide. He has been the recipient of many awards, including twelve honorary doctorates and two fellowships from the National Endowment for the Arts.