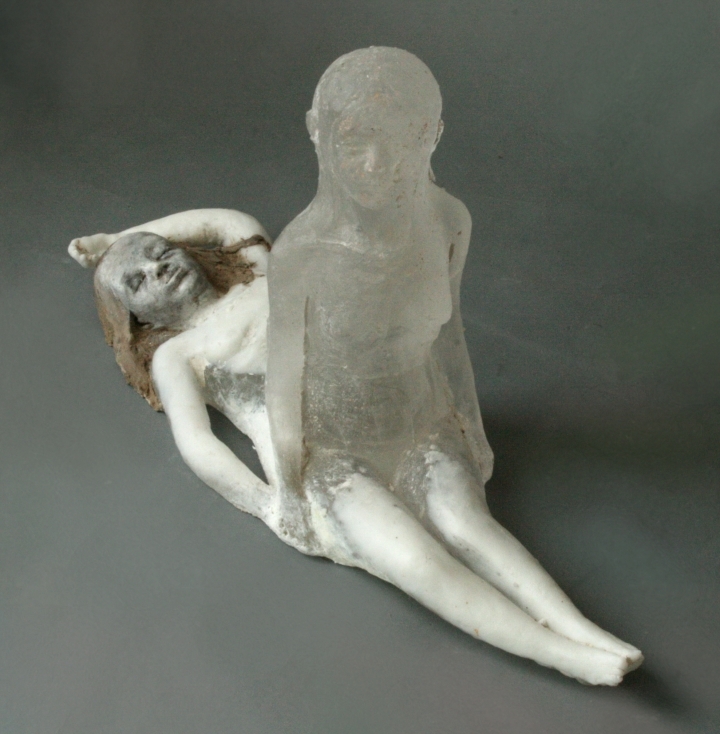 梦境
Sometimes When She Sleeps
2009
这件作品创作之时,艺术家Christina Bothwell正值怀胎数月,但因怀孕而生的不安与恐惧让她常常陷于失眠的困境,在很多似醒非醒的混沌时刻,她经常做一个重复的梦:她的灵魂冲出身体,渐渐漂浮在空中。在奇特的梦境中,她看到了未来的双胞胎孩子,他们在梦里已经到了中年,他们告诉Christina生活需要勇气,这将会带给生活无限的恩惠。从那以后,艺术家再也没有了由怀孕带来的恐惧。在另外一个类似的梦境里,她的灵魂同样飞出了肉体,并梦到了自己过世多年的父亲。她的父亲在有生之年并不相信来生和上帝,梦中的他们面对面地坐在金属折叠椅上,父亲告诉艺术家他以前对于死后的一些错误看法,他说他的死让自己很震惊,他需要慢慢调整来适应新的环境,父亲还让艺术家告诉她的母亲,他很好,很快乐。
这些梦留给了Bothwell极深的印象,她觉得自己需要用一些雕塑来把这些特殊而清晰的梦境呈现出来,因此她用玻璃和粘土这两种完美的媒介,描绘出灵魂脱离肉体的那种情境,也正是这件名为《梦境》的作品。
At the time of the creation of this work, the artist Christina Bothwell was pregnant for several months, but the anxiety and fear of pregnancy were often caught in the dilemma of insomnia. She often made a repetitive dream in many awake moments : Her soul rushed out of the body, gradually floating in the air. In the strange dreams, she saw the twins of the future, they had come to middle age in the dream, they told Christina life need courage, which will bring life unlimited benefits. Since then, the artist has never had the fear of pregnancy. In another similar dream, her soul also flew out of the flesh, and dreamed of his father died for many years. Her father in the lifetime did not believe in the next life and God, the dream of them sitting face to face in the metal folding chair, the father told the artist he had some of the wrong views on the death, he said his death so that he was shocked, he needed Slowly adjusted to adapt to the new environment, the father also let the artist told her mother, he was very good and very happy.
These dreams left Christina Bothwell's deep impression that she felt that she needed to use some sculptures to present these special and clear dreams, so she used the perfect medium of glass and clay to depict the soul from the flesh Kind of situation, it is also called " Sometimes When She Sleeps " works.
艺术家简介 About The Artist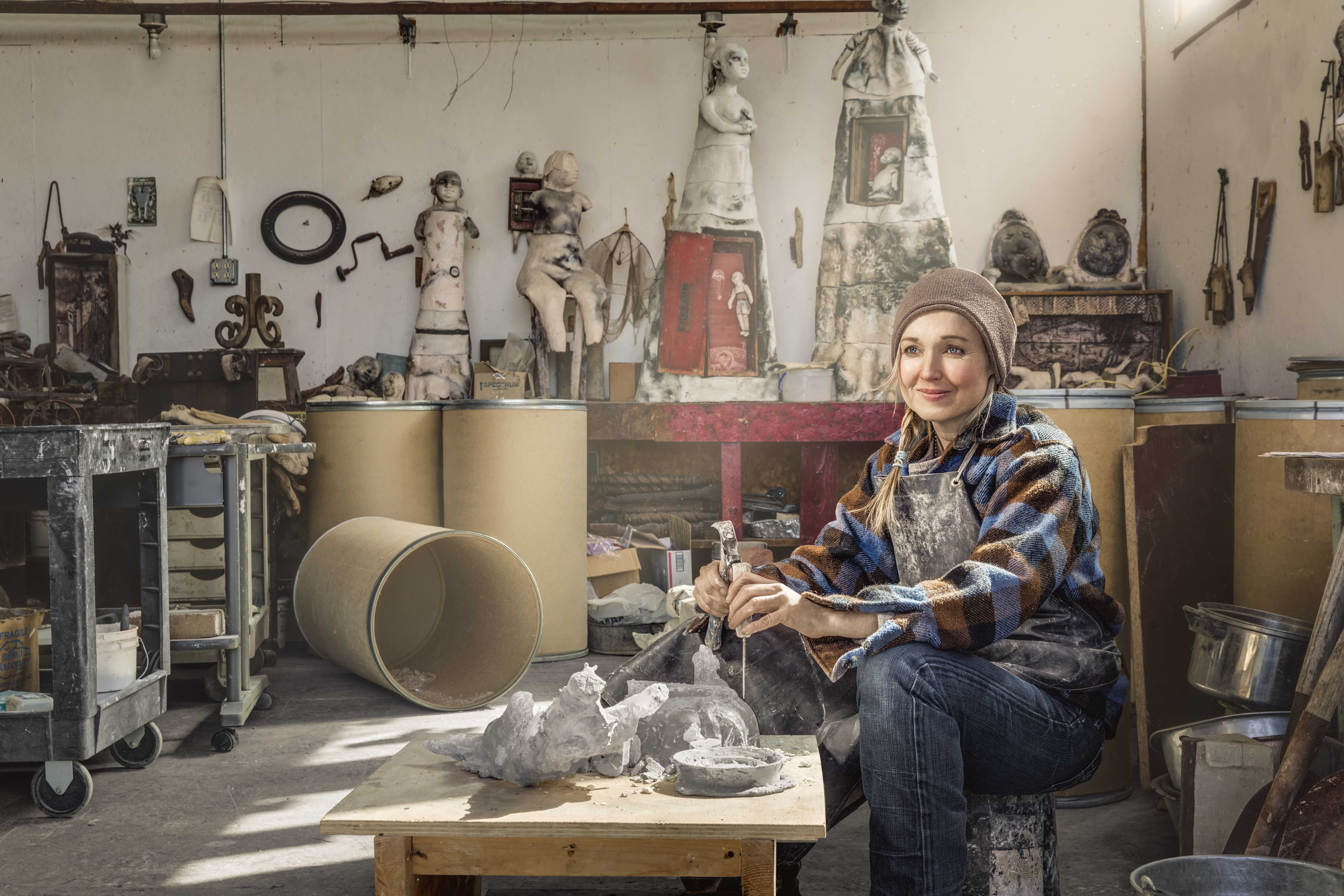 Christina Bothwell
USA/美国
*1960
christinabothwell.com
在Christina的作品中,任何"有生命"的物体,它们的表情永远是静谧平和的。毋庸置疑,她的作品传递着某种极致的美感,轻易便能将我们魅惑其中。但同时,作品浑身散发的,或奇异或诡秘的气场,又难以避免地让我们感到不安和抵触:Christina总喜欢将若干个不可思议的形体进行离奇的"嫁接",同时,我们还能在作品半透明的"体内"看到其它种种难以描述的物体。这一切的一切,往往都流露着或病态或死亡的美学,很难让人不去联想作品中有关"生与死"的潜在表述。
In Christina's artwork, for any "alive" objects, their facial expressions are always peaceful. Undoubtedly, her artworks deliver us a certain extreme beauty which makes us easily drawn into it. Meanwhile, the artwork itself, or its strange or mysterious aura, inevitably makes us feel uneasy and conflicted: Christina likes to "graft" a variety of unimaginable bodies quaintly, at the same time, we can see through the translucent artwork and notice other inenarrable objects. All these things usually reveal either morbid or dead aesthetics, which makes people hard not to think of the potential expression of "life and death" in the artwork.