穹顶,这一源自美索不达米亚文明时期的建筑结构,与玻璃有着同样悠久的历史传承,从公元1世纪古罗马奥古斯都的万神殿,到16世纪布鲁内莱斯基为翡冷翠营造的圣母百花教堂;从公元6世纪查士丁尼在君士坦丁堡为索菲亚女神屹立的大教堂,到公元21世纪泰晤士河畔为迎接千禧年而建的"世纪穹顶",这个复杂、神秘且美妙的结构使得历代建筑师们花费毕生精力去探究它、超越它,因此这个结构的背后隐藏着的意义已经超越了这个图像、结构本身。
毕蓉蓉试图借用这个词去帮助自己构建一个自我认知,并且在不同的展览中,不停地去探索或者挖掘这个构建过程。在此次上海玻璃博物馆的展览中,起初由一个浪(水)的纹样为生发点。毕蓉蓉经常有意识无意识地运用一些浪纹样,好奇心使她将这些纹样再次利用和重组,慢慢地它们生发成了一些新的几何图形、渐变色、曲线、螺旋纹等各种形态以及它们与空间之间的关联,此时浪纹样本身似乎已经不再重要,而其中的构建关系已在过程中得以生成,如果说上一次毕蓉蓉的个展"穹顶"是这个构建的开始,那么这次"穹顶二"是对之前构建的延续。
从形状到色彩、从光影到透视,玻璃似乎就是为毕蓉蓉量身定制的一种材料,一个在表现中能实现与绘画完全不同维度的媒介,这能使她打开新的视角去诠释这种对象物间、结构间的关系,探索作品与场域之间的作用。作为本年度参与上海玻璃博物馆的重要当代艺术跨界"退火"项目的女性艺术家,毕蓉蓉不断触发玻璃与当代艺术的无限可能,扩展玻璃的边界,利用玻璃这种材料为观众和业界带来充满惊喜和出乎意料的精彩作品,这就是我们不断在坚持的"退火"。
The dome(from Latin: domus), a building structure originated from the Mesopotamia civilization period, has the same long history as glass. From the Pantheon of Augustus of ancient Rome in the First Century AD to the Basilica di Santa Maria del Fiore Cathedral of Florence created by Brunelleschi in the Sixteenth Century and from the Constantinople Cathedral set by Justinianus the Great for the Goddess Sophia in the Sixth Century to the Millennium Dome aside River Thames built for new millennium in twenty-first Century, this complex, mysterious and admirable structure attracts numerous ancient architects to spend their lifetime to explore and overtake it, so the meaning behind this structure has gone beyond the images and the structure itself.
Bi Rongrong tries to borrow the meaning of this word to build up self-cognition, constantly explore or excavate the construction process in different exhibitions. In this exhibition of Shanghai Museum of Glass, her inspiration is coming from the wave (water) pattern. Bi Rongrong often consciously or unconsciously adopts some wave patterns and the curiosity drive her to reuse and restructure these patterns, so these patterns gradually created more various forms, like new geometric shapes, color gradient, curve, spiral and so on, and the connections between them and the space. And then the wave pattern itself seems to be no longer important because the construction relationship has generated during the process. If the last solo exhibition of Bi Rongrong, Dome (Absolute), was the beginning of this construction, then Dome 2 (Wave) now is a continuation of the previous work.
From the shape to color and from shadow to perspective, the glass seems to be a tailored material for Bi Rongrong and a media that has totally different dimensions with that of painting in the performance, which can enable her to open a new perspective to interpret the relationship between the objects and structures and explore the effect between the works and the fields. As an female artist that participated in the important contemporary art cross-border "Annealing" project in Shanghai Museum of Glass, Bi Rongrong constantly trigger unlimited possibilities between glass and contemporary art, extending glass boundary and using glass material to bring full of surprises and unexpected wonderful works for the audience and the industry, which is exactly the "Annealing" that we continue to insist on.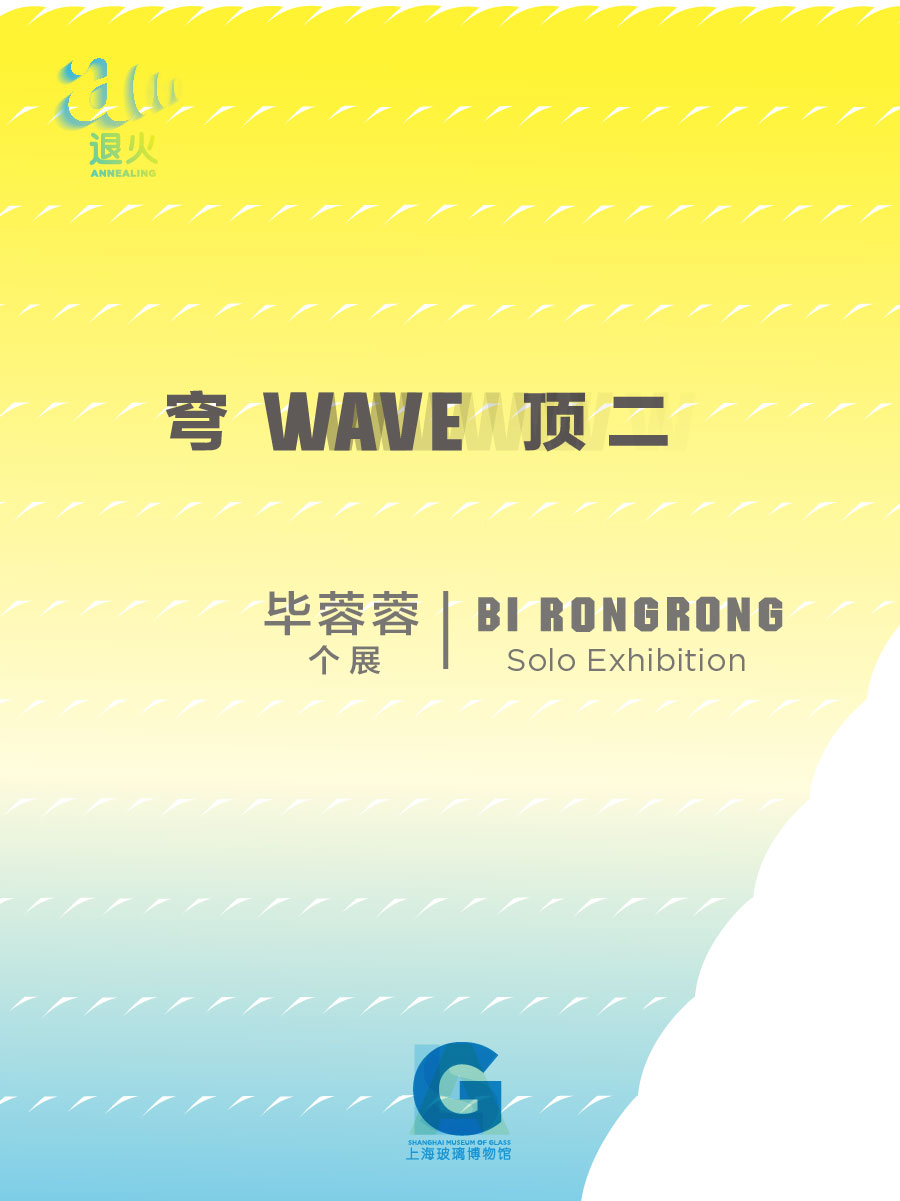 主办方:上海玻璃博物馆
展览时间: 2017年11月04日 – 2018年02月28日
周二至周日每日14:00-16:00
媒体采访请联系:36503688-6905
专程拜访请联系:36503688-6909
展览地点:上海玻璃博物馆N1艺术写字楼1楼至二楼
Organizer: Shanghai Museum of Glass
Dates: Nov 04, 2017 – Feb 28, 2017
From Tue to Sun 14:00-16:00
FOR MEDIA INTERVIEW, PLEASE CONTACT: 36503688-6905
SPECIAL VISIT, PLEASE CONTACT: 36503688-6909
Exhibition Venue:N1 Art Tower 1st floor to Second floor, Shanghai Museum of Glass