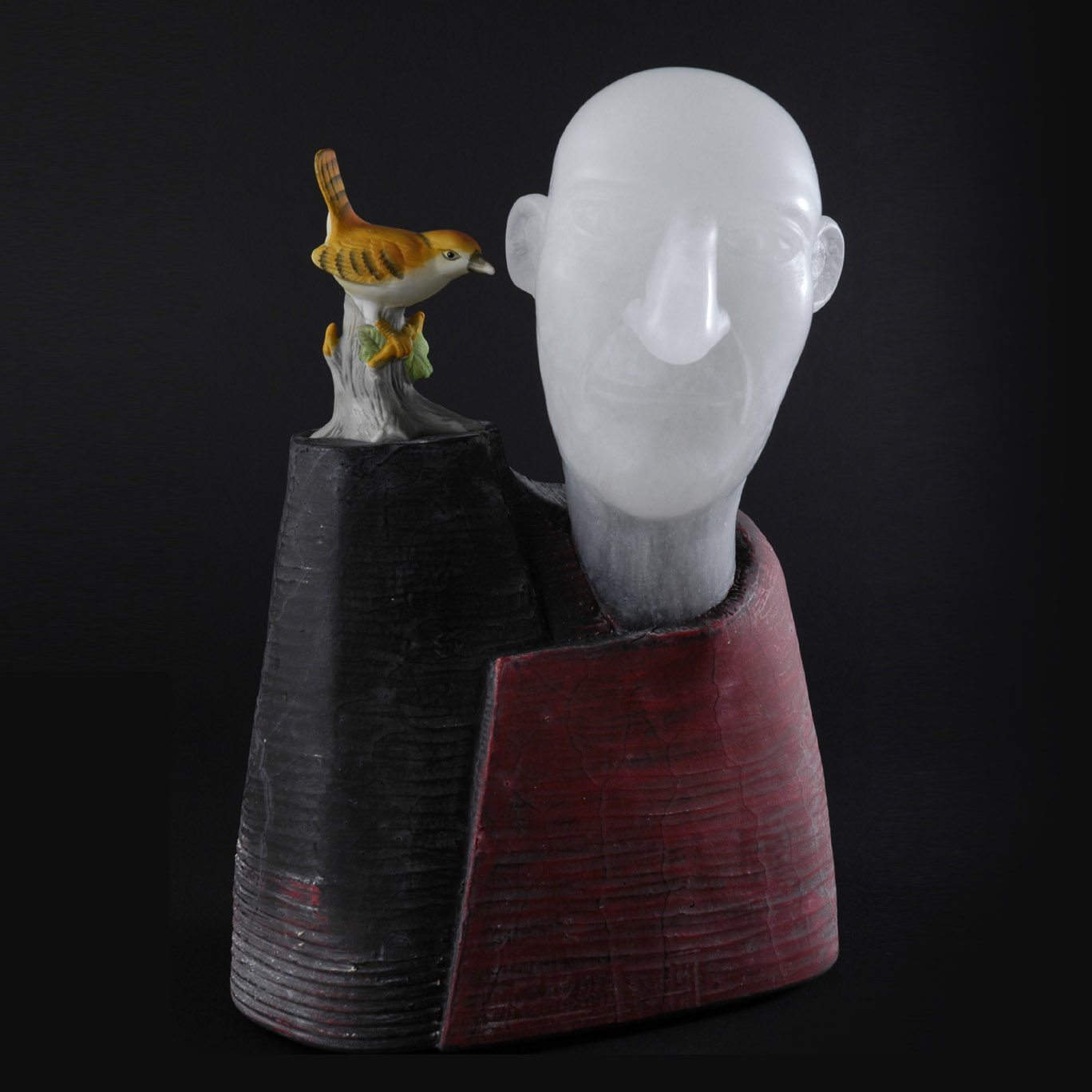 是一只小鸟告诉我的
A little bird told me
2010
在人类的历史上,人和鸟总是有着千丝万缕的联系,这种联系甚至有些神秘。鸟儿被认为是纯洁的同伴,有一些甚至被认为是预告未来的先知。然而,在《是一只小鸟告诉我的…》系列中,艺术家David Reekie对于鸟儿单纯的形象提出了一些质疑,作品中的鸟儿象征着当今社会中人与人之间交流的不可靠和不信任感,暗示着在现实中,信息有时候也会对我们产生伤害。英国人习惯用"一只小鸟告诉我的…"作为开场白,来传递一些秘密或者威胁另外一个人。在这件作品中,观者会对人和人之间的关系或交谈是否真得如同表面上那样坦然产生疑问:鸟儿究竟是一个被动的听者?还是一个在混淆视听的谣言传播者?
Throughout history, humankind has had a deep and often mystical relationship with birds. They have been seen as innocent companions and foretellers of our future. In this series, this innocence is questioned. The bird in these pieces becomes a symbol of unreliability and mistrust in our society, suggestive of how information can be used against us. We often use sayings like "a word in your ear" or "a little bird told me" whilst relaying a secret or warning to another. In this piece, you are unsure if the relationship or conversation is all that it seems. Is the bird a passive listener or an agent who will misuse the information?
艺术家简介 About The Artist
David Reekie
United Kingdom/英国
*1947
http://www.davidreekie.com
David Reekie曾多次受邀赴世界各地的知名学府、机构和协会等举办讲座和授课。1994-1997年,担任美国Pilchuck玻璃国际理事会成员。2002年,担任North Lands Creative Glass咨询委员会成员。Reekie最为主要的创作媒介是玻璃,在长时间的实践积累下,他已逐渐发展出带有其个人特色的失蜡鋳造法。他认为我们所生活的世界日趋复杂,面对来自四面八方的压力和诱惑,这些零零总总的冲突却总为他带来了创造任务和情景的灵感。
David Reekie has been invited to lecture and teach throughout the world. From 1994-1997, he was the international council member of Pilchuck Glass School.From 2002,he was the member of the advisory council for North Lands Creative. Reekie's main medium is glass and over several years he has developed his own lost wax casting technique. His work is influenced by man's reaction and adaptation to the society in which he lives. We live in a world that grows more complex and difficult to comprehend, with its tensions and temptations that pull us in different directions.T hese conflicts provide ideas from which he creates characters and situations and provide him with a constant source of material for his work.