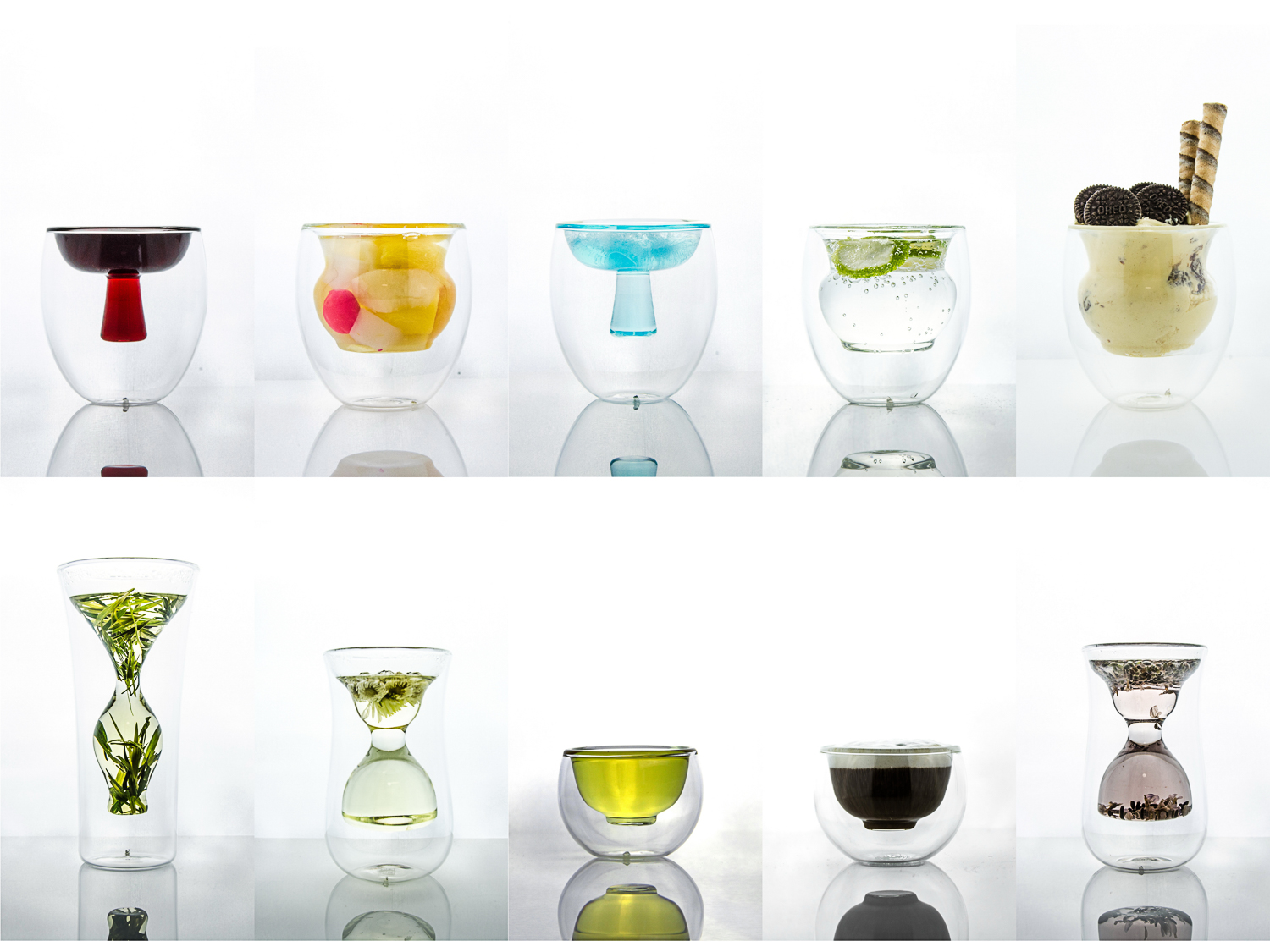 裏-外
Li-Wai
2013
"裏-外"系列的设计概念源于不同形状的传统中式容器。其多有著美丽的器型和比例,而将这些优雅的线条和日常生活中常见的玻璃杯进行结合能营造出一种里外不同的意境。杯子的内与外,正与负构建出的留白空间看似无用,但却是能隔绝或高或低温度的功能所在。随著装盛的不同内容物的颜色变化,如同为传统器具披上美丽的现代外衣,让人们在使用时也有如欣赏著新旧事物的相互融合之美。
The concept of the series stems from different types of traditional Chinese containers such as vases and bowls. Elegant outlines and proportions, are combined with the shape of everyday cups to create intriguing products for daily use. The design aims to bring the beauty of tradition back into modern daily life. When the cup is filled with liquids, the "vase" or "bowl" appearsreminding people of the beauty of traditions, while they enjoy a simple drink.
艺术家简介 About The Artist
Studio KDSZ
Chi Hsiao-En 纪晓恩
China Taiwan/中国 台湾
*1978
www.n-KDSZ.com
纪晓恩,出生于1978年的台湾。2001年自中原大学机械/建筑系毕业后,他在台北永康街从事文化,人文及空间相关的社区规划及建筑杂志工作。2005年,前往美国ACCD(Art Center College of Design)和意大利米兰的欧洲设计学院(Istituto Europeo di Design Milano)学习产品设计。旅意期间,他曾与知名设计师Mario, Claudio Bellini共事,参与意大利精品家具品牌Natuzzi、 Kartell、Poltrona Frau等项目的设计。2008年回到亚洲后,先后任职于知名华人精品品牌"琉璃工房"及"法蓝瓷",负责设计与品牌营销等相关工作。2010年他于北京成立KDSZ工作室,专注于家具,生活精品及室内空间设计。
Chi Hsiao-En, the founder of the studio, was born in 1978 in Taiwan. He gained his mechanical engineering and architecture degree from Chun-Yuan University (96-01). After working in Taipei, he set out on a design journey starting from Pasadena's Art Centerto IED in Milan (05-08). During his stay in Italy, he worked with Mario and Claudio Bellini for leading international brands such as Kartell, Poltrona Frau, Natuzzi and Steelcase. When returning to Asia in 2008, he joined luxury Chinese brands FRANZ and LiuLiGongFang, to head up their design and branding work. In 2010, he relocated to Beijing to set up his own studio KDSZ, in which he focuses on furniture, home products and interior design.