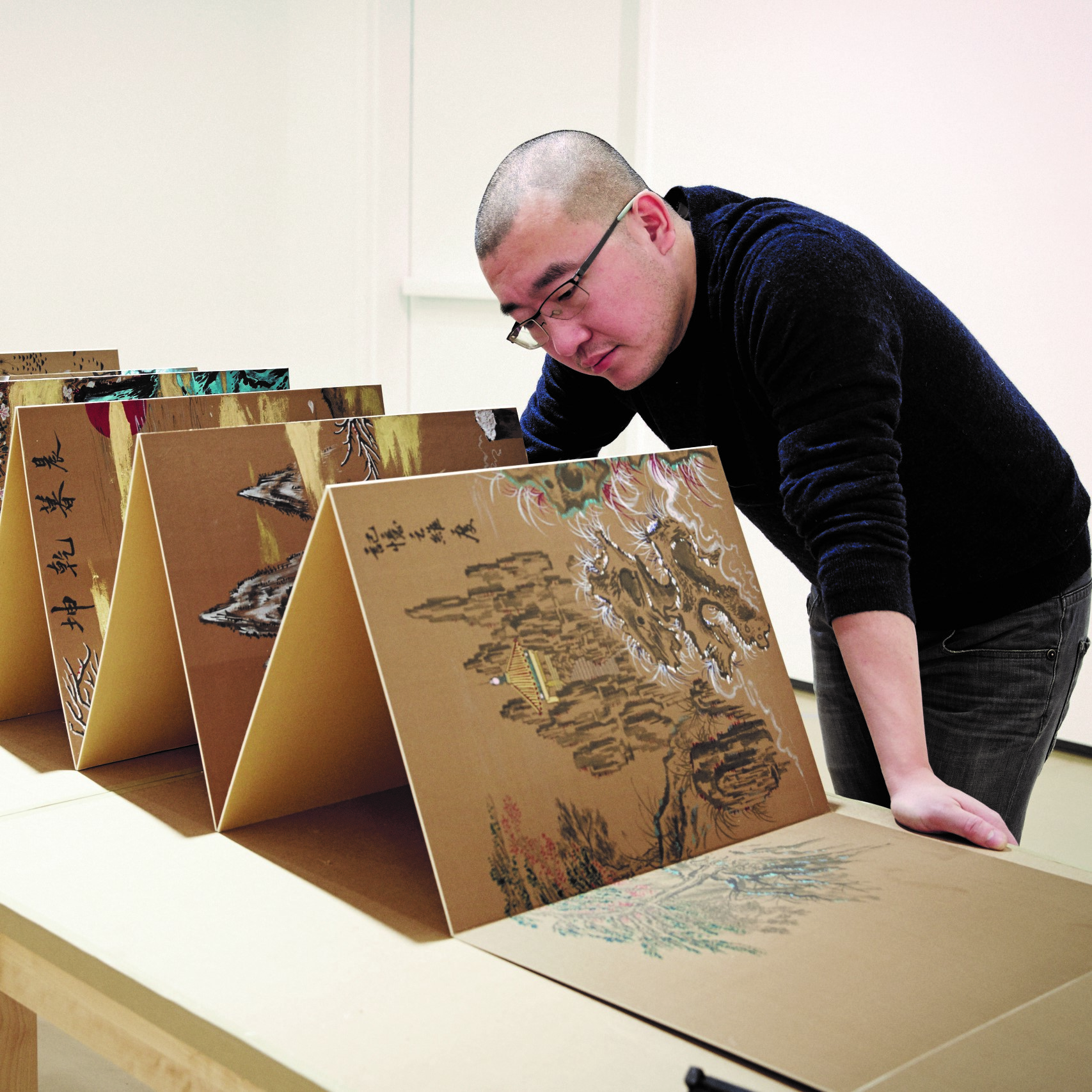 孙逊
SUN XUN
1980年出生于中国辽宁省阜新。2005年毕业于中国美术学院版画系。次年,成立π格动画工作室。现生活并工作于北京。
孙逊的作品通常为手绘而成的动画短片。因此除动画短片本身外,同时可以看到与其动画相关的手稿或运用其他媒介制作一些作品。其早期作品如《休克时光》(2006)是一个由一些小图片组成的系列作品,引用报纸、书和其他文件材料上的不同片段作为背景材料,运用了对时间的概念,探索并叙述历史。历时三年完成的《21克》(2010)主要以粉笔、炭笔画为媒材,构建出一个带有疑惑的且令人印象深刻的黑白世界。《一场革命中还未来得及定义的行为》(2011)的画面构成则是曾作为我国抗战时期最重要的宣传工具之一的木刻版画。同时,《诗歌工厂》(2010)、《主義之外》(2010)和酝酿之中的作品宣告孙逊的又一次尝试和突破——将中国最具代表性的水墨画引入其作品。
现实与幻想、时间与历史一直贯穿着孙逊的作品。影片如《21克》、《魔术师的谎言》、《安魂曲》等都以同样的角色为主,即一位头戴高顶黑礼帽、身着燕尾服,且易于辨认的魔术师。"魔术师是唯一的合法说谎者",他带领观众一起寻找另一个世界,一个乌托邦。在探险过程中,可以感受到这是一个天启的世界,如同在戏剧化并且充满梦幻的剧本里一样。孙逊的作品也涉及一些社会发展及演变的主题,并提及一些理论家如马克思、阿多诺和霍克海姆等。
作为一位年轻艺术家,短短数年,孙逊在影像艺术领域的成果令人瞩目。2010年,孙逊陆续获得中国当代艺术奖"最佳年轻艺术家奖";台湾当代艺术连线新潮赏奖和意大利CIVITELLA RANIERI 基金2011/2012年度奖学金。2012年,木刻动画短片《一场革命中还未来得及定义的行为》(2012)入围第六十二届柏林电影节短片竞赛单元。这是其作品《21克》(2010)入围2010威尼斯电影节地平线单元,成为第一部入围威尼斯电影节的中国动画影片之后,两年内作品再次入围国际三大A类电影节。
Born in 1980 in Fuxin in Liaoning province, China. He currently lives and works in Beijing. He graduated in 2005 from the Print-making Department of the China Academy of Art. In 2006 he established π Animation Studio.
The works of Sun Xun are mainly drawing and/or short animation. Sun Xun also exhibits his individual cell drawings and other mixed media works, often times alongside his films. His series of small mixed media works, entitled "Shock of Time" (2006), challenged notions of time, history and narration and utilized media such as newspapers, books and other documentary material that served to highlight certain passages of history. 21 KE (2010) was produced 3 years after its commencement and mainly completed by use of pastel and fusain on canvas. It constructs an impressive world full of wonders all in black and white. "Some Actions Which Haven't Been Defined yet in the Revolution" (2011) is made by woodblock printing – a technique that was an important tool during the Cultural Revolution. This printing technique was used as an primary means of communication to quickly convey information to the masses. Clown's Revolution (2010), Beyond-ism (2010) and other such new works exhibit Sun Xun's recent attempt and breakthrough in the use of Chinese ink painting in his work. Although it is difficult, there is no doubt that the works are a perfect blend of traditional and contemporary art.
Reality and fantasy, time and history, both are continuously seen in Sun Xun's work. Works such as "21 KE", "Magician's Lie" and "Requiem" feature a key protagonist; a magician dressed in a black suit and a high top hat. The magician has been in search of another world, probably a utopia. Over the course of this character's expedition, the sequences are dreamlike and apocalyptic. Sun's works explore themes of societal development and revolution, referencing such theorists as Marx, Adorno, and Horkheimer.
As a young artist, Sun Xun made an impressive impact, especially during recent years. He has received several notable awards including the "Chinese Contemporary Art Awards (CCAA Best Young Artist)" and "Taiwan Contemporary Art Link Young Art Award" in 2010, and the Civitella Ranieri Visual Arts Fellowship 2011/2012.