热力剧场
中国最hot的剧场
RADIANCE THEATER
THE HOTTEST THEATER
IN CHINA

第一幕:梦如花
火树银花,璀璨绚烂
第二幕:梦如雨
缓缓滴落,凝固成永恒
第三幕:梦如泡影
上升膨胀,令人痴迷陶醉
第四幕:幻梦成真
努力将梦保留,保留那份美好
ACT 1 Dream like flowers
A splendid display of fireworks with hot glass.
ACT 2 Dream like rain
Slowly dripping hot glass to become eternity.
ACT 3 Dream like bubbles
Fascinating glass balloons, rising and swelling.
ACT 4 Dream coming true
Striving to keep the dream and maintain the beauty.
艺术家杜蒙以自身一贯纤敏且充满灵性的方式,对无处不在的"限制"与"边界"进行了戏剧化的解读和阐释。当观众穿行于展览之中,感受到的不仅是玻璃那捉摸不定、介于透明与半透明之间的质感,更是一幕幕奇幻又古怪的小剧场。如果说每组作品含蓄地回应了某种特点类型的"局限"所在,那由数组作品组成的大小不一,风格各异的"房间",则共同形成了一个巨型的装置和舞台。当观众游走于各个不同的空间中,看到、听到或感触到的是故事、是情绪,也是真切地身临其境。
In this exhibition, the artist Meng Du offers a dramatic interpretation of pervasive "limitations" and "boundaries" in her usual, although subtle and intuitive way. Walking through the exhibit, the viewers will experience the transient and translucent nature of glass while looking at the fantastical and strange scenes. Each scene reflects a different type of limitation. Rooms of various sizes and styles function as large installations and a stage. Viewers will have intimate contact with stories and emotions through sight, sound and touch.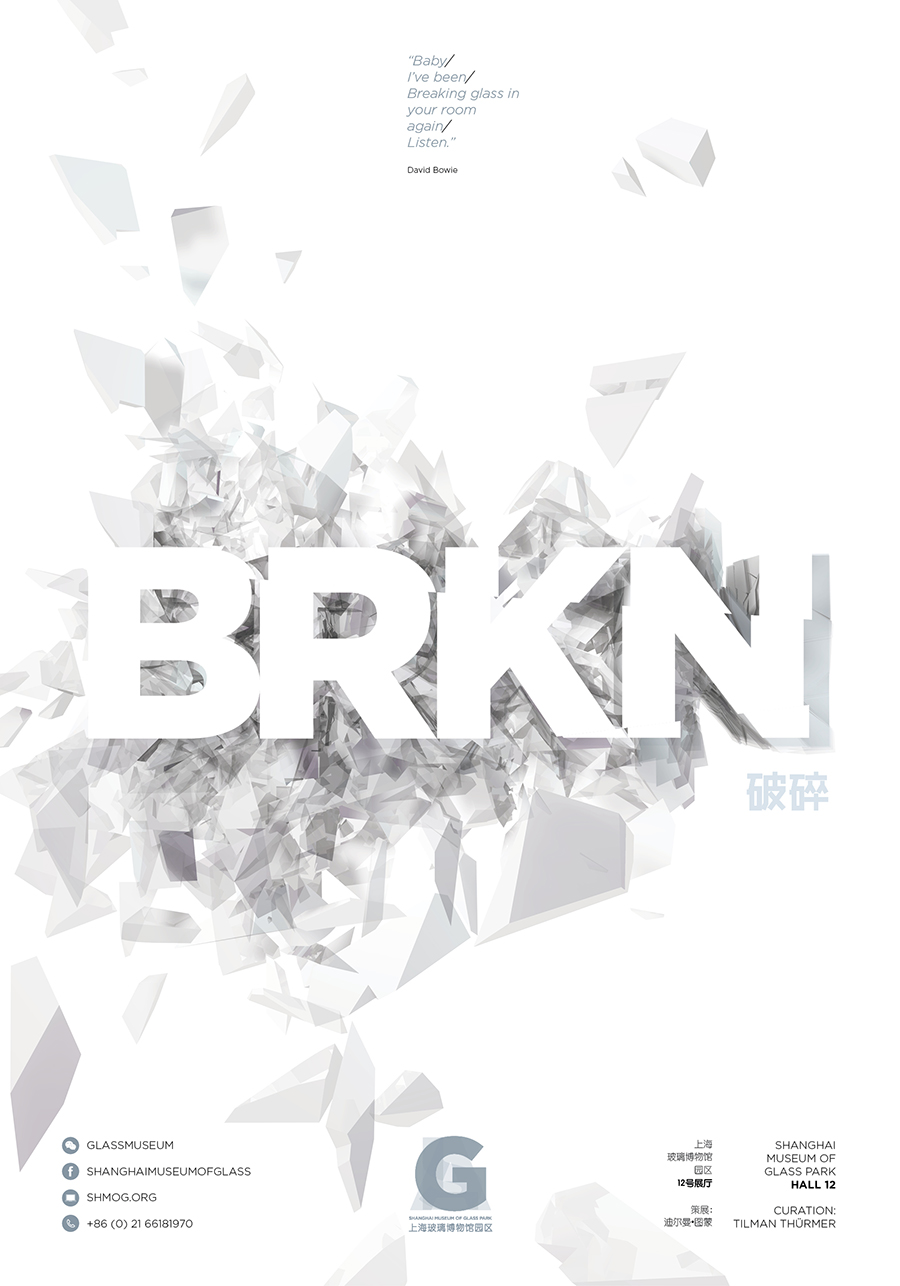 "玻璃,总是要碎的。"以这句广为人知的谚语为出发点,展览"破碎"(BRKN),将探索粉碎、破碎和破裂的事物,能如何道出心碎和希望,以及两者之间的一切。展览呈现的21项装置作品,将从不同的视角探索"破碎"的内涵、隐喻及无限可能性。所有作品均以玻璃为核心介质——而玻璃固有的脆弱性,将使其成为无数语言中最为强有力、并且反复出现的隐喻——此外,音乐,作为另一个至关重要的元素,也将在展览中施展不容忽视的情感力量。
"It is the fate of glass to break." So goes a French proverb, regularly echoed in literature, on film, and in music. The maxim itself, as well as its recurrences across a diversity of media, encapsulate how glass' inherent fragility continues to serve artists working beyond the visual. A potent and recurring metaphor in countless languages, broken glass resonates on myriad levels. With this as its starting point, BRKN explores how things shattered, fractured and cracked can speak to heartbreak and hope, and everything in between.
从熔炉车间到艺术空间,上海玻璃博物馆的建筑在一甲子的发展中经历了工业化到现代化的转型。场馆改建时,在大量保留原有空间结构与细节的基础上,上海玻璃博物馆被赋予了艺术观赏性、互动娱乐性与再生创造性。结合玻璃艺术与建筑本身的特点,在主馆内塑造了众多参观亮点,如"万花筒入口"、"历史长廊"、"玻璃屋"、"古玻璃珍宝馆"等,实现着玻璃艺术在空间上的升华。
Over the past 60 years, Shanghai has been through a massive transformation from its industrial age to today. The Shanghai Museum of Glass maintains the basic structure of the site's existing factory, expressing its original details and creating a highly artistic and interactive space. To highlight the building's previous function as a glass factory, there are several feature areas, including the Kaleidoscope Entrance, Corridor of History, House of Glass and the Jewelry Box.